Windstream Enterprise Review
Striking the right balance for your network from a wide array of options is difficult and complex. To best serve most enterprises, selecting a flexible network design that includes MPLS, broadband and wireless is essential.
Windstream SD-WAN is the latest entry into wide area networking. It is an application-aware service that intelligently routes traffic in real time based on the established business policies, along with network quality and availability. Cloud-based application traffic no longer needs to be backhauled through a private network; instead, it's dynamically routed through the best link to deliver optimal performance. SD-WAN is designed to optimize application performance, reduce costs and simply network management.
As a software-defined overlay network, Windstream Enterprise SD-WAN works on top of other types of networks, using elements from them. Network management is centralized, allowing simplified visibility and control from a single pane of glass. IT personnel can view application performance and set network, security and applications policies across all locations according to their specific goals. New sites can rapidly be turned up with zero-touch deployment, dramatically reducing the need for on-site IT support.
Solution Pros:
Application visibility and control manages and deploys routing policies with a centralized management tool
Application optimization monitors and improves network paths for higher quality
Dynamic IPsec deployment enables end-to-end encryption for secure data transmission
Top Features Include:
Dual active links increases resiliency with redundant and diverse connections at each site
Managed service offers continuous, proactive monitoring and optimization from a Windstream Enterprise technical service manager
Deploys and manages security policies with an integrated firewall
Dynamic WAN selection preserves application performance based on pre-set thresholds
Overall
SD-WAN Concierge from Windstream Enterprise delivers networking to branch offices and remote sites via software intelligence, regardless of the underlying connection type or carrier. It's the evolution of hybrid WAN. Windstream Enterprise SD-WAN checks all important boxes: optimized network infrastructure, increased productivity, improved security, reduced TCO, simplified management, and scalability.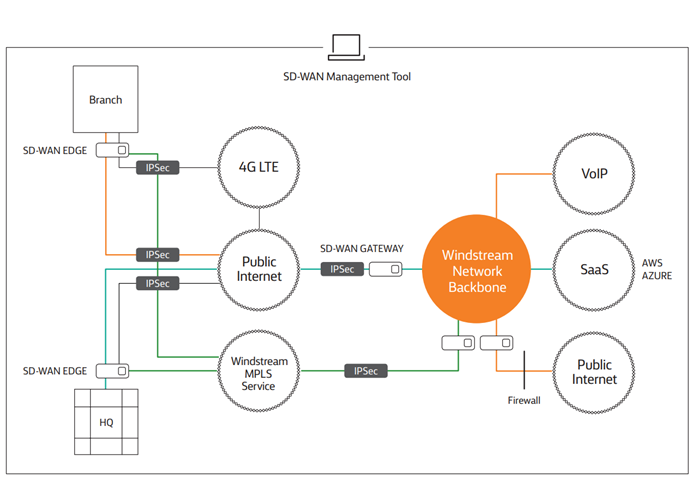 Architecture Type
On-premise devices, Cloud-based
Deployment Options
Managed services, third party hardware if necessary
Security & WAN Optimization
IPsec VPNs, MPLS VPNs
Pricing Models
Managed services; on-premise edge devices
Best for Network Size
Small to medium