Silver Peak Review
The industry's most complete SD-WAN solution, EdgeConnect provides enterprises with the flexibility to use any combination of transport technologies to connect users to applications – including public broadband services – without compromising application performance or security. With EdgeConnect as the foundation for an SD-WAN, enterprises can improve the resiliency of their WAN, dynamically balance traffic across multiple paths, and increase application performance. The three main components of the solutions are: EdgeConnect appliances, Unity Orchestrator, and Unity Boost. EdgeConnect zero-touch physical or virtual appliances are deployed at an organization's branch office, central sites, and/or cloud data centers. Unity Orchestrator centralizes management and enables simplified configuration and orchestration of the entire WAN with unprecedented visibility. Unity Boost is an optional performance pack that engages Silver Peak's WAN optimization.
Solution Pros:
Link Bonding allow businesses to select four link bonding policies: High Availability, High Quality, High Throughput and High Efficiency.
Dynamic Path Control (DPC) gives EdgeConnect the ability to intelligently route traffic over multiple available paths.
EdgeConnect helps ease the burden of complying regulations with security certification and compliance, including HIPPA, PCI, SOX, FIPS 140-2, and others
Top Features Include:
Unity Boost, an optional performance pack that enables Silver Peak market-leading WAN optimization
Security features include Data-in-Transit Protection, Micro-segmentation, DDoS Protection, Encryption, and Zone-based Firewall
Silver Peak supports industry-leading security partners including Check Point, Fortinet, Palo Alto, and Zscaler.
Overall
Silver Peak's Unity EdgeConnect SD-WAN solution serves to securely connect users to their applications, traversing the WAN using the highest performing and most cost-effective means possible. Implementing business intent overlays that incorporate link bonding, path conditioning, dynamic path control, bi-directional shaping and dynamic rate control would be complex if these features were left to be set up independently. However, Silver Peak's SD-WAN platform makes this manageable. From a single central console, called Unity Orchestrator, network administrators don't have to spend hours tweaking and tuning, they simply use configuration wizards to give Orchestrator the basics (connections, bandwidth, topology, etc.). From there, the EdgeConnect goes to work to automatically configure secure network connections, appropriately according to each site's topology. From there, the overlays are built and configured with the appropriate policies.
In the end, making the Internet reliable for an enterprise WAN requires the seamless integration of many different technologies. From packet-based load balancing, to reliable bi-directional shaping, to path conditioning, to business intent overlays that virtualize network functions, EdgeConnect gives enterprises the unparalleled control over their WAN. Layered on top of all of this, the option to add modular WAN optimization when and where it's needed (another unique feature of Silver Peak's SD-WAN solution called Unity Boost), and Silver Peak's EdgeConnect platform separates itself from the competition. Only Silver Peak delivers a complete SD-WAN solution that scales to meet the connectivity and performance needs of any enterprise.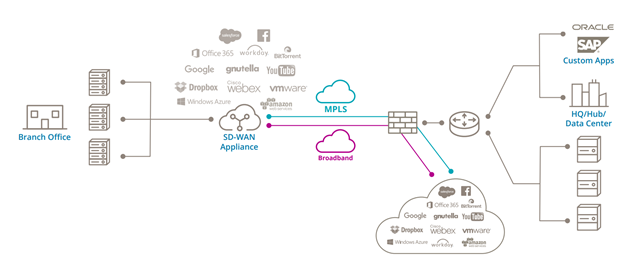 Architecture Type
On-premise virtual or physical appliance, Cloud-based
Deployment Options
EdgeConnect, Unity Orchestrator as Controller, Unity Boost
Security & WAN Optimization
Next-gen Firewall, IPsec, micro-segmentation, Unity Boost Optimization
Pricing Models
Subscription; varies by packages
Best for Network Size
Small to large