Riverbed Review
Riverbed's SteelConnect SD-WAN is a revolutionary SD-WAN solution with four key components that work together to increase performance and flexibility. At the top-level, the SteelConnect Manager is your controller into a centralized and multi-tenant management portal, providing an intuitive, simplified workflow for provisioning, deploying, and managing hybrid networks. It gives administrators a single pane into the entire network to monitor network health, deploy new appliances, and change policies as requirements evolve.
SteelConnect Gateways provide point-to-point, meshed connectivity, and enforce global policies across premises and cloud networks. Features include zero-touch provisioning, VPN management, and firewalls to protect against threats. SteelConnect Switches and Access Points provide users and devices a line of local area network and Wi-Fi access points that automate enforcement of access control policies and visibility.
Solution Pros:
Unified connectivity and management across WAN, remote LAN and Cloud Networks
Cloud-based management experience
Built from the ground up, SteelConnect Manager, Gateway, Switches and Access Points provide management, secure connections, and connect users and devices
Top Features Include:
Policy-based orchestration for applications, users, locations, SLAs and security requirements
Universal policy automation
Zero-touch provisioning means instant deployment
Overall
A market leader of SD-WAN, Riverbed's SteelConnect provides over 28,000 customers with solutions to improve business performance and millions in savings. Customers like Hilton Hotels turn to Riverbed to connect thousands of resorts to improve application performance. Other improvement metrics include reducing Office 365 traffic by 63%, 30% faster rollout time, and saving thousands per month without sacrificing performance.
Riverbed's solution delivers core network services of application intelligences, quality of service (QoS), and path selection. Simply put, SteelConnect delivers superior performance of all applications across any network for greater business agility, while reducing IT complexity and cost.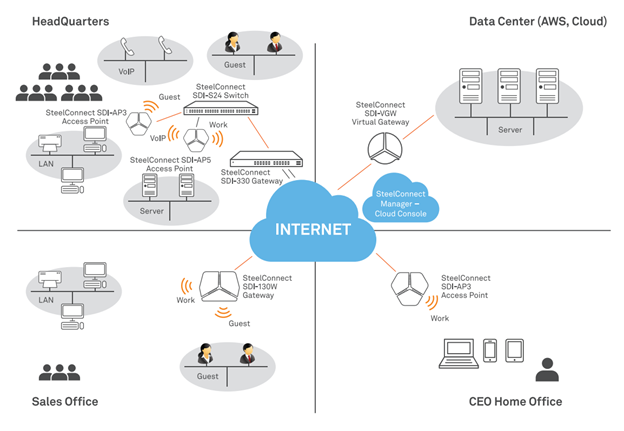 Architecture Type
On-premise, Cloud-based
Deployment Options
Appliance or software runs SteelConnect for SD-WAN and SteelHead for WAN Optimization
Security & WAN Optimization
Integrates with security providers; policy-based securities
Pricing Models
Varies by packages
Best for Network Size
Small to large