Nuage Review
Software-defined networking (SDN) increased enterprise IT agility with policy-based automation for the cloud. The Nuage Networks software-defined WAN (SD-WAN) solution brings the same agility and flexibility to the enterprise wide area network. Their SD-WAN solution can help you drive down WAN costs. It automates efficient path selection and accelerates deployment times for new sites, as well as network and security policy upgrades.
Nuage Networks™ Virtualized Services Platform (VSP) is a comprehensive solution that makes the network as readily consumable as it computes resources across the datacenter, enterprise WAN and public cloud providers. It does this by providing the missing link to ensure rapid and efficient delivery of highly customizable application services, in and across multi-tenanted datacenters. Nuage Networks Virtualized Cloud Services (VCS) is the SDN platform for private cloud network automation in the enterprise datacenter. It enables the deployment of massively scalable cloud-based services with the agility and performance demanded by dynamic application environments.
Solution Pros:
Only vendor to let you use same SDN policy controller across the datacenter and WAN to reduce infrastructure costs
Microsegmentation of security within and across the WAN instead of physical firewall appliances at each site to provide security and/or encryption
Top Features Include:
Simple deployment with the branch hardware Network Services Gateway (NSG) which calls home to the policy engine and downloads pre-defined, location-based configuration with two-factor authentication system
Nuage Network Virtualized Network Services (VNS) provides centralized control of IP routing, Layer 2 forwarding (VLANs) and security profiles (ACLs and firewall rules)
Overall
Nuage Networks Virtualized Network Services comprise of three main components in their SD-WAN solutions. Virtualized Services Directory (VSD) is the centralized policy engine, which defines, deploys, and enforces the overall Nuage Networks VNS solution's capability and delivers advanced service capabilities via Network Functions Store. Virtualized Services Controller (VSC) is the network program on the customer premises equipment with network overlay paths to form the topology. Last, Network Services Gateway provides network functionality at the branch either based on x86 hardware (NSG-P) or as a Virtualized Network Services Gateway (NSG-V) with customer provided x86 server.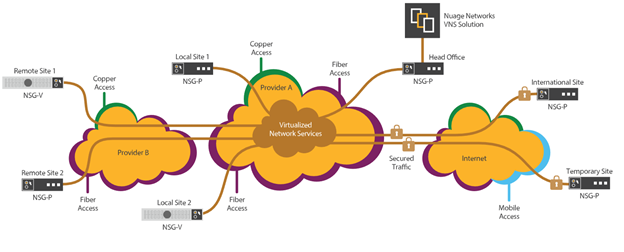 Architecture Type
On-premise, Cloud-based
Deployment Options
Virtualized Service Controller (VSC) appliance or virtual
Security & WAN Optimization
IPsec, VPN, Firewall, Optimization through partners
Pricing Models
Subscription; varies by packages
Best for Network Size
Small to medium