MetTel Review
MetTel's SD-WAN enables quick and cost-effective deployment of new branches. This cloud-delivered solution provides bandwidth expansion and enterprise-grade WAN by leveraging broadband and private links while dramatically improving operational automation. MetTel's SD-WAN seamlessly meshes across carrier broadband and nationwide MPLS access via MetTel's NNI circuits to increase bandwidth while maintaining secure enterprise-grade WAN connectivity. There are no forklift upgrades of existing MPLS with broadband while maintaining secure and encrypted private connectivity. The MetTel's SD-WAN solution is Plug & Play with streamline provisioning and automated policy management for all branch gateways by setting easy-to-use business roles in the web portal. This also helps reduce hardware costs and maintenance by consolidating branch equipment into a single cloud controller.
Solution Pros:
SD-WAN Edge appliances automatically authenticate, connect, and receive configuration instructions once they are connected to the internet in a zero-touch deployment
Bi-Directional QoS with Multi-Path Optimization to manage, shape and queue data packets to improve voice and video
Continuously computes a quality score to assess performance of critical voice, video, or data applications for performance monitoring and enhancements
Top Features Include:
Boost encryption levels and QoS with MetTel's private MPLS network while utilizing SD-WAN technology
Granular classification of 2,500+ applications enables smart control out of the box with knowledge of application profiles enabling automation of QoS and bandwidth allocations
Overall
MetTel SD-WAN gives business communications networks an immediate and cost-effective solution. Coupled with the standard offerings for branch offices and datacenters, MetTel's Mobile SD-WAN kit alternates connection with 4G LTE in the event your primary circuit network connection is lost. Other key differentiators that set MetTel apart includes no upfront investment in hardware and single point of contact for billing and support of the entire SD-WAN solution. Compared to major competitors, MetTel has a diverse MPLS provider network with 5 fully redundant SD-WAN gateways in their private backbone.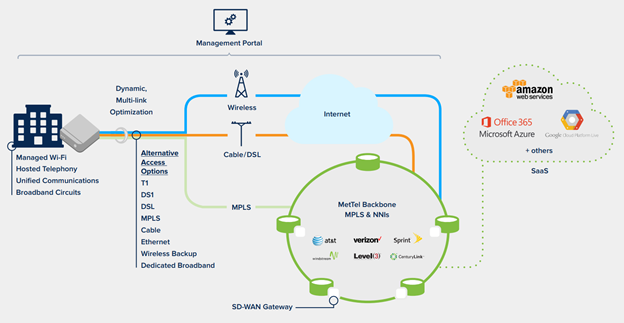 Architecture Type
On-premise, Cloud-based
Deployment Options
Managed services, third party hardware if necessary
Security & WAN Optimization
Next-Gen Stateful Firewall, IPsec, SSL-VPN
Pricing Models
Subscription; varies by packages
Best for Network Size
Small to medium