Masergy Review
For almost two decades, Masergy has been built on a culture of innovation and service excellence to help enterprises transform their hybrid networking, cloud communications and cyber security. By combining innovative software-defined platforms and fully customized solutions for the best client experience, Masergy continues to grow rapidly through groundbreaking innovation, game-changing technologies and unmatched customer service.
Masergy pioneered Managed SD-WAN, a solution seamlessly integrated with Masergy's Hybrid Networking suite of solutions to transform enterprise networking. This integrated approach simplifies the design, deployment, and management of solutions customized for unique application environments and business objectives. Masergy Managed SD-WAN solutions offer seamless integration with Masergy's other Layer 2 and Layer 3 virtual networking instances to assure all locations and applications get the performance they need. Masergy's Managed SD-WAN solution includes advanced application-based routing, simplified change management, and real-time analytics and service control.
Masergy's award-winning Intelligent Service Control (ISC) portal provides the central user interface for application-specific analytics and policy controls in Managed SD-WAN. ISC also enables configuration of optional WAN optimization capabilities where you can set data deduplication, optimize packet sizes, and protocol chattiness limitations. This, along with a myriad of other capabilities, showcases that these secure, managed SD-WAN solutions meet the diverse needs of enterprises based on their application, cloud connectivity, and location requirements. The goal is to give your company more rewards in the way of flexibility, control, and savings, all at no risk, by aligning the technology to your business needs and fully managing the services you require.
Solution Pros:
Fully integrated for easy Hybrid Networking deployments with unparalleled flexibility to design, deploy, and modify your network.
True zero-touch provisioning means businesses do not need any IT staff for configuring and booting up SD-WAN devices.
Centralized orchestration for policy and configuration helps businesses coordinate and automate services.
Dynamic path control for real-time traffic steering to diverse WAN links.
Top Features Include:
Active-active configuration leverages primary and backup circuits simultaneously while still supporting failover for resiliency
Built-in single pane-of-glass visibility into network health delivers granular network analysis and reporting
Connectivity to cloud services such as Amazon Web Services, Microsoft Azure, and over 200 enterprise SaaS providers with SLAs to ensure steady application performance
Embedded firewall, unified threat management, and routing to avoid other technology expense and greatly simplify network architectures.
Overall
Masergy Managed SD-WAN delivers cost-effective and feature-rich solutions for your enterprise applications environments. You'll benefit from our innovative technology that combines seamless and secure WAN interoperability with an award-winning customer experience. All Masergy network solutions are customizable by design, allowing each enterprise to strike the optimal balance between price and performance.
Masergy's reputation for delivering an industry-leading customer experience means a dedicated team of renowned Solutions Engineers will work side-by-side with you to define your ideal approach based on your desired outcomes. Once your solution is deployed, it is managed, monitored, and proactively supported 24/7 by certified professionals in Masergy's global network operations centers.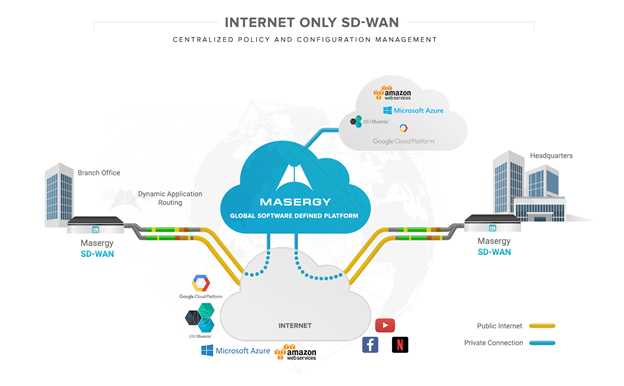 Architecture Type
On-premise, Cloud-based
Deployment Options
Managed services, third party hardware if necessary
Security & WAN Optimization
Integrated WAN optimization, router, and firewall with Unified Threat Management
Pricing Models
Subscription; varies by packages
Best for Network Size
Small to medium