FatPipe Review
FatPipe, the inventor and multiple patents holder of software-defined wide area networking (SD-WAN), reliability, security, and WAN Optimization products, specializes in providing solutions that transcend Wide Area Network (WAN) failures to maintain business continuity for thousands of customers including numerous Fortune 1000 customers over the last 12 years, and has the largest installed base of customers in software-defined network WANs.
Symphony is one of FatPipe's products which offers Software-Defined WAN (SD-WAN) at remote sites. The simplified deployment with zero-touch installation and management provides the ability to centrally control their WAN and resolve these issues. For high-bandwidth application support, FatPipe elastically uses bandwidth when they need it without overprovisioning, especially for video conferencing and collaboration applications. And for faster branch office deployment, mergers and acquisitions, its SD-WAN speeds up the process for new offices and site integration.
Solution Pros:
FatPipe supports comprehensive application identification, classification and control capabilities
Leading vendor for WAN link load balancing and path control capabilities
Easy to operate, all functions integrated onto one platform, and managed with a single high-level user interface
Top Features Include:
FatPipe offers detailed network visibility and report capabilities
Wide range of WAN optimization features including storage for caching
Caching/compression and application acceleration tools for improved bandwidth utilization
Overall
FatPipe Networks is one of America's fastest growing companies, being an INC 500 and Utah's Top 100 fastest growing for several years. Inventor and holder of multiple patents, FatPipe SD-WAN products can be deployed either on premise or a hosted Orchestrator in the cloud. Customers simply drop an appliance in the datacenter or branch office and easily migrate to a more optimal hybrid WAN topology for diverse cloud resources. Alternatively, a hosted FatPipe Orchestrator device can phone home and pull policy and security configuration with no touch needed.
For Managed Service Providers (MSP), FatPipe-as-a-Service runs appliances inside of the MSP's cloud and allows for the MSP to have a single multi-tenant FatPipe Orchestrator or multiple virtual FatPipe Orchestrator appliances. Multiple customer data networks remain segmented while allowing an MSP to have global overview of the customer base. Overall, FatPipe Networks provides the best WAN redundancy and load balancing product available, and now also provides powerful multi-line WAN acceleration, Quality of Service (QoS), compression, caching and deduplication technology to greatly improve network performance.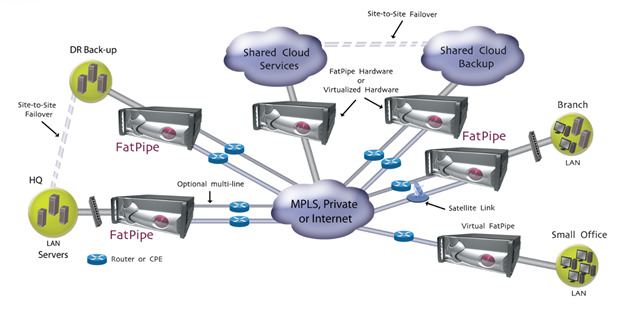 Architecture Type
On-premise Orchestrator, hosted Orchestrator, SD-WAN as a Service
Deployment Options
Managed services, third party hardware if necessary
Security & WAN Optimization
IPSec, Secured VPNs, WAN Optimization included
Pricing Models
Subscription; varies by packages
Best for Network Size
Small to medium