Ecessa Review
Ecessa is a software and hardware manufacturer that provides network connectivity for businesses. The company's line of Ecessa Edge, PowerLink and WANworX controllers, has over 10,000 field installations for organizations of all sizes to use any type of private or public network bandwidth. It reliably runs their interne and cloud-based applications, connects offices worldwide and distributes traffic among a fabric of WAN links, ensuring business continuity and performance. The company's SD-WAN technology aids in lowering IT costs and makes it easier to provision, maintain and support the applications and networks that run over them.
The Ecessa WANworX products are offered both as on-premise appliances and virtual instances. The technology provides a scalable end-to-end solution present at the edge, data center, corporate headquarters and the cloud. All management features are handled on the appliance with policies through a web application.
Solution Pros:
Ecessa Insight™ is a centralized and customizable management tool to gain unprecedented insight into network and application performance
Achieve greater than 99.999% WAN performance and reliability over public/private Internet links
High availability with hardware failover and disaster recovery with geographic redundancy in the event of a controller failure or site failure
Top Features Include:
Ecessa offers 14 unit models for offices and datacenters to best fit and scale as needed
Never Down™ performance eliminates the need for failover with 100% uptime
No additional cost for features; Ecessa includes all software and features.
Overall
Software-defined Wide Area Networking is expected to grow to 30% of all enterprises by 2019. Ecessa portfolio offers 3 product lines from single site WAN failover to enterprise level SD-WAN. The solution is not only upgradeable and scalable, it can bolt onto any network and route any traffic without ripping out proprietary hardware. The variety of platforms allows business to grow as needed, and they are available from 150Mbps to 20Gbps capacity. Ecessa solutions are optimized for real-time traffic, providing the fewest hops and lowest latency for voice, video and virtual desktop (VDI). SD-WAN is a red-hot market and going forward, every multi-site enterprise will rely on SD-WAN to lower costs with a unified network solution such as Ecessa.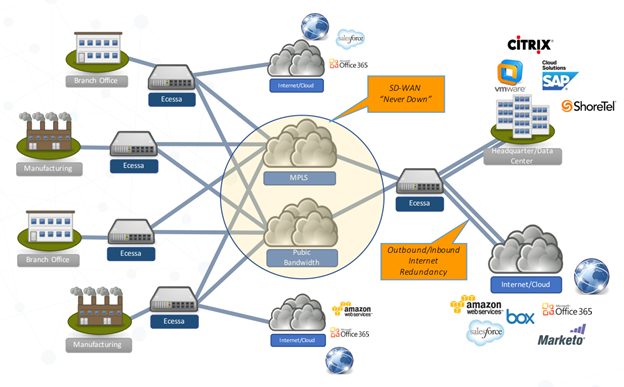 Architecture Type
On-premise, Cloud-based
Deployment Options
Physical or virtual controllers
Security & WAN Optimization
IPsec, SSL-VPN, basic firewall
Pricing Models
Upfront or recurring models
Best for Network Size
Small to medium