Cradlepoint Review
Cradlepoint's NetCloud platform transforms fixed connections at branch locations to fluidly fit a changing network. Driven by technology trends like cloud, mobile, LTE, and IoT adoption and usage, the new WAN must be more scalable, secure, reliable, automated, and agile. It must constantly expand, contract, adapt, and evolve as business needs dictate.
At Cradlepoint, the SD-WAN provider refers to the paradigm of connecting people, places and things to the WAN over wired and wireless internet broadband as the Elastic Edge. To achieve the elasticity the connected enterprises require, Cradlepoint's NetCloud platform provides flexibility, availability, and simplifies business and application policies. The pathway of Elastic Edge uses LTE, software-defined poligy management, and orchestration to eliminate the incrasing complexity of today's WAN.
The platform makes it easy to transform your network and get maximum value with WAN affinity and traffic steering. NetCloud platform consists of integrated components: NetCloud Manager, NetCloud OS, NetCloud Perimeter, router integration, and SDK & APIs to seamlessly enable connectivity, security, management, and extensibility.
Solution Pros:
NetCloud Manager provides a single pane of glass to configure, monitor and manage connected resources from anywhere
NetCloud OS is the hardened router software enabling primary/failover routing and WAN traffic control as well as edge services such as firewall, IDS/IPS, and security
NetCloud Perimeter is a software-defined, identity-based security perimeter to connect M2M and IoT devices to your network
Top Features Include:
Built-for-purpose routers for branch, mobile, and IoT requirements
SDK & APIs enable you to integrate and leverage Cradlepoint technologies
Dynamic multi-point VPN on NetCloud OS and best-in-class applications from Zscaler and Trend Micro for advanced content filtering and threat management
Smart WAN selection provides more agility and automation
Cradlepoint's SD-WAN solutions enables today's enterprises to securely connect between branch offices, remote clients, and Software-as-a-Service (SaaS) applications. The network world is moving rapidly out of a build-your-own network to consume-as-needed architecture. Organizations will end up buying less networking hardware, equipment and carrier services as they move to Network-as-a-Service (NaaS) like the Cradlepoint NetCloud platform.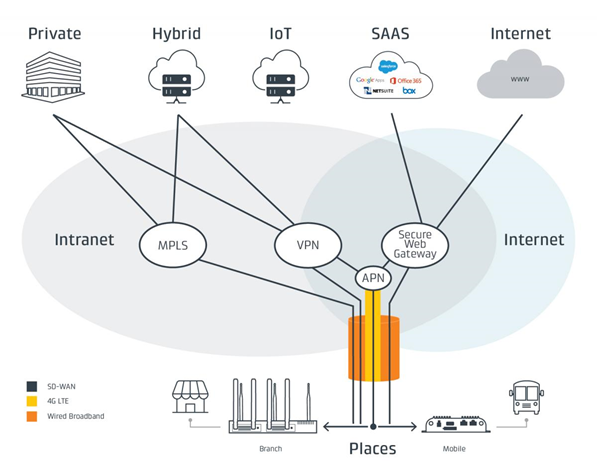 Architecture Type
On-premise, Cloud-based
Deployment Options
Managed services & software
Security & WAN Optimization
Secured routers, Zscaler integration
Pricing Models
Subscription; varies by packages
Best for Network Size
Small to large