CloudGenix Review
CloudGenix Software-Defined WAN (SD-WAN) is the industry's most complete solution for customers who want to build hybrid networks. In the past decade, fundamental shifts occurred which changed the way applications and computing are deployed and managed. With a legacy network architecture, application traffic sent over MPLS private connections has been the standard for security, though more expensive than standard Internet broadband. Further, cloud-hosted SaaS such as SalesForce and Office 365 resides outside the datacenters, and a direct path to the Internet would provide better performance and lower cost.
An application fabric, AppFabric, is established on all CloudGenix Instant-On Network (ION) devices to create a secured virtual private network (VPN). Global policies are defined top-down to easily integrate heterogenous connections that specify performance, compliance, and security rules for applications and sites. ION devices automatically choose the best path and dynamically adjust routes with real-time analysis of performance metrics and WAN links.
Solution Pros:
Simple, easy-to-use solution
Reduce number of devices required by replacing routers and firewalls
Top-down policies that map applications, sites, and WAN links
Management portal to continually monitor health and performance across all sites
AWS and Azure cloud extension
Top Features Include:
Top-down deployment – no need to build on top of legacy router technology
Integrated next-gen firewall, encryption and segmentation support
Integrates with existing WAN optimization technology
Visibility into usage, link-level statistics (bandwidth, loss, latency, jitter), top applications and concurrent flows
Overall
CloudGenix Software-Defined WAN (SD-WAN) offers subscription-based pricing per remote office. Total cost of ownership is low, considering no additional equipment like routers and firewalls are required.
The CloudGenix ION architecture comprises top-down layers that eliminate the need for complex routing protocols, replacing them with application-specific policies on the controller and assigning business priority security rules.
There are three key differentiators for why CloudGenix consistently ranks among the top SD-WAN providers: its focus on providing an application-defined fabric that governs performance and application delivery, its ability to deliver visibility into the network for all cloud, SaaS, and datacenters, and its ability for intelligent traffic engineering without the need for additional devices.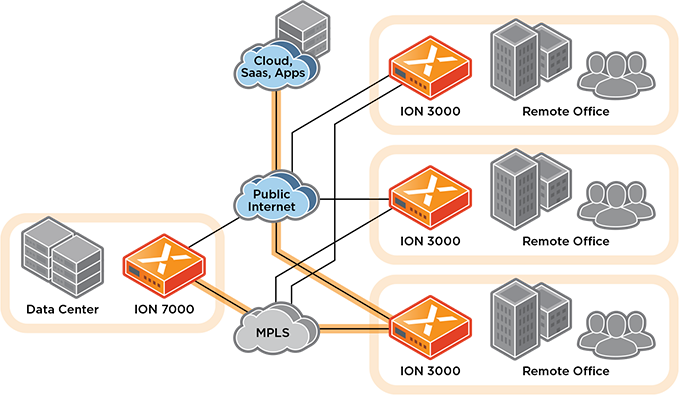 Architecture Type
On-premise, Cloud-based
Deployment Options
CloudGenix Instant-On Network (ION) deploy on premises as appliance or software
Security & WAN Optimization
Built-in firewall, encryption, security perimeters; integrates with existing WAN optimization deployments
Pricing Models
Subscription-based per office
Best for Network Size
Small to medium