Cisco Review
Cisco, the gold standard for networking, is a trusted name with over 30 years' experience. Cisco brings enterprise-grade Software-Defined WAN (SD-WAN) technology to address the problems of modern enterprises. With large deployments in retail, healthcare, financial services, energy, manufacturing and more, Cisco is a market leader across Fortune 2000 enterprises. Solutions are customizable specific to your business needs for any type and size. Companies with large, dispersed workforces and disparate networks who anticipate growth should consider Cisco.
Cisco Intelligent WAN (IWAN) delivers uncompromised user experience over Multiprotocol Label Switching (MPLS) and the Internet. IWAN protects performance priority applications from interruption and outages while reducing WAN cost. LiveAction software offers functions such as performance routing, application control and visibility, quality of service (QoS) monitoring, and dashboards for real-time network health and status.
LiveNX, the analytics platform, includes client application via web server that runs on Windows, Linux or as a VM. Additional nodes provide other capabilities to help scale horizontally. The use of additional nodes is based on performance criterias, location placement so data is not polled across the WAN, and security in Different Security Zone (DMZ).
Solution Pros:
Reduce WAN costs by 50 percent or more
Secure, hardened network with on-demand insertion of Umbrella, Zscaler, Palo Alto, and other services
Cloud integration to AWS and Azure; SaaS performance for Office 365, Salesforce, and more
LiveNX offers deep understanding of network performance, diagnostics and analytics
Top Features Include:
Zero outages for any application
Advanced analytics for sophisticated forecasting and insightful recommendations for policy changes
Performance Routing (PfR) path control visualization, reporting, and configuration
Overall
Cisco is one of the most widely deployed enterprise-grade SD-WAN solutions, with over 150,000 customers. With Cisco, companies can achieve up-to 80 percent reduction in cost, 4 to 12-fold improvement in application performance, 100 percent uptime during network failures, and deployment in days for large environments. Cisco meets industry standards for compliances including PCI, HIPPA, SOX and more.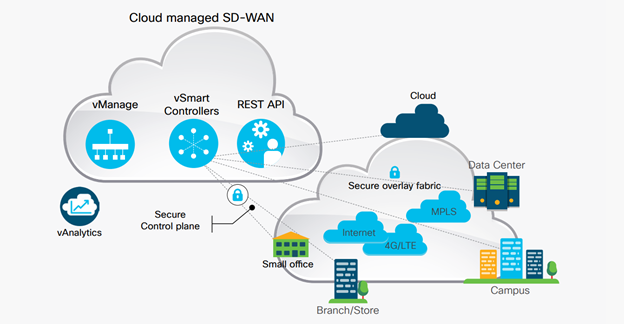 Architecture Type
On-premise, Cloud-based
Deployment Options
Controllers as virtual or physical appliances
Security & WAN Optimization
Integration with third party services; comprehensive security; optional WAN optimization features
Pricing Models
CapEx and subscription licenses or enterprise-based agreements
Best for Network Size
Small to large