CenturyLink Review
CenturyLink is the second largest U.S. communications provider for global enterprises. With customers in more than 60 countries and an intense focus on the customer experience, CenturyLink strives to be the world's best networking company by resolving customers' increased demands for reliable and secure connections.
For SD-WAN, CenturyLink partners with Versa Networks software to build a global platform that is scalable and agile. With CenturyLink's SD-WAN platform, businesses can move away from legacy expensive private lines and proprietary hardware to a combination of public and private networks. As companies keep up with new business requirements and complexities, the result is a dynamic and flexible network that improves experience and lowers costs.
Packages
CenturyLink offers two SD-WAN packages: Basic and Premium.
Basic packages include: Site equipment, software licenses, management portal, infrastructure controllers, configuration assistance, and reporting.
Premium packages include: All basic package features, plus secure internet access, detailed analytics, performance tuning, and wireless backup.
Solution Pros:
Advanced analytics, ongoing optimization
CenturyLink Adaptive Network Security – Multi-layer advanced threat protection
Centralized management, deep visibility & real-time intelligence
Supports multi-tenant environments
Top Features Include:
Zero-touch installation
Scalable to 10,000+ locations
Identifies over 2500 applications
Fully managed, co-managed with professional services, or self-managed
Overall
CenturyLink offers a compelling case to improve networking between your business locations and the cloud. Already the #1 U.S. carrier for ethernet services, it is natural they also offer SD-WAN technology to improve operational efficiencies. The result is a comprehensive portfolio of professional services and multi-tenant platforms, rich in features to meet most IT demands.
New SD-WAN deployments can be designed and validated in days and deployed in hours vs. weeks. Their software-based model removes hardware dependency of traditional architectures and offers IT agility. With CenturyLink, businesses can slash Capex spend with usage-based pricing to ensure customers only pay for what they use.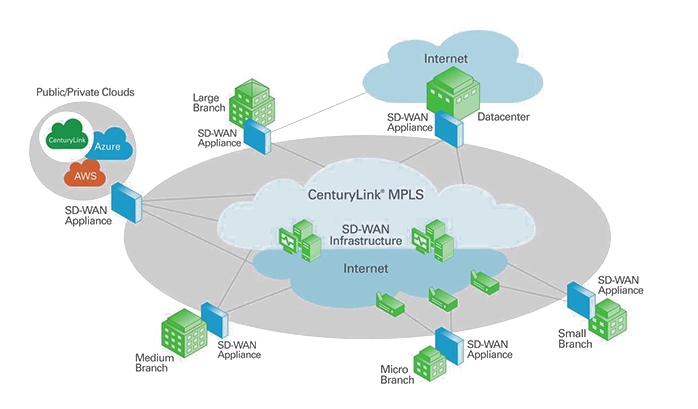 Architecture Type
On-premise, Cloud-based
Deployment Options
Platform run on commodity hardware, virtual machines, containers, and cloud-based
Security & WAN Optimization
CenturyLink Adaptive Network Security, next-gen firewall, supports third-party WAN optimization
Pricing Models
Subscription-based; varies by packages
Best for Network Size
Small to medium