Bigleaf Review
Founded in 2012, Bigleaf Networks is a cloud first SD-WAN service that improves cloud and internet performance with a team of telecom and network professionals.  Bigleaf Networks offers same IP address failover by becoming your new ISP. The underlying internet circuits are abstracted away, and the network does not concern itself with IP addresses. Traffic traverses between gateway clusters and encapsulates each packet in a tunnel, which provides the customer with static IP addresses regardless of when traffic moves between ISP connections. If there is a circuit outage, IP addresses, VPN, remote desktop sessions, SSH, VoIP, web presentations and other applications all stay online.
Bigleaf intelligent load balancing offers end-to-end advanced monitoring for latency, jitter, packet loss and capacity. Traditional load-balancers use one or few static IP address or host names to monitor status of each connection, but this method only monitors tiny subset of paths. Bigleaf provides complete visibility through all the connections and adapts to any issues, insulating the internet experience.
Bigleaf improves the performance of every cloud application. Office 365 experience is protected by providing the best path for email, calendar, files, and other Microsoft-hosted traffic. With direct peering to Microsoft at each of Bigleaf's point-of-presence datacenters, the traffic never hits the public internet, providing additional security, QoS, and intelligent load balancing. Other cloud applications such as ERP, Point of Sales (POS) and SaaS based applications benefit the same.
Solution Pros:
Protected from cable cuts, routing issues, unscheduled maintenance, packet loss, or network instability
Flexible load balancing algorithms work over all circuits
Bigleaf is the perfect SD-WAN foundation for Cisco, Juniper, Palo Alto, Fortinet, Watchguard, SonicWall and other VPNs
Enable quality VoIP over low-cost connections
Top Features Include:
End-to-end advanced monitoring and automatic adaption
Plug-and-Play installation takes 5-10 minutes at each location
Optimized VPN traffic ensures priority and most stable connection
Real-time and historical data from web dashboard and reports
Overall
Bigleaf provides internet failover and optimization, cloud application performance, load balancing and quality of service, and site-to-site VPN foundation. Their end-to-end internet visibility and same-IP failover operates better than dual-WAN firewalls, which limit visibility and control traffic. Load balancer limitations suffer the same, unlike Bigleaf's true seamless failover which moves traffic between ISPs without dropping sessions. Overall, Bigleaf offers plenty of benefits compared to more traditional and standard methods.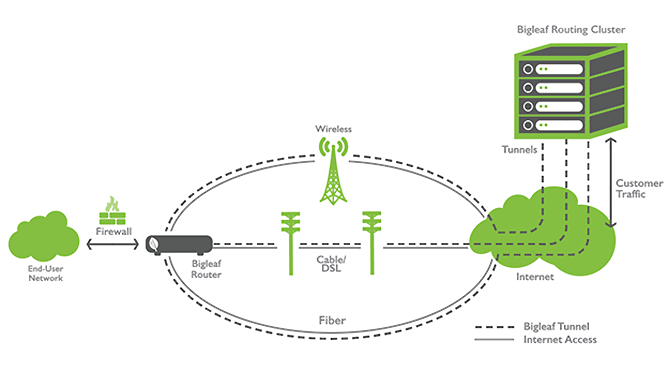 Architecture Type
On-premise, Cloud-based
Deployment Options
Onsite equipment, managed services, third party hardware
Security & WAN Optimization
Integrates with existing technology
Pricing Models
Subscription-based; varies by packages
Best for Network Size
Small to medium